This year, we were so excited to host Admissions Counselor University (ACU) in person after a long year of virtual events. Last year, we had about 50 new admissions professionals join us virtually, but it just wasn't the same. The best thing about ACU is the connection you make with other new professionals who are experiencing this newness at the same time. It is about the familiar faces that you will see during travel which makes walking into a college fair a little more fun. It is about team building activities. We were so excited to bring all of that back this year, and it was very apparent that everyone was excited!
We had our biggest class in the history of ACU with 64 new professionals attending from 3 different states. We hosted our event at Drake University, making it a great central location. ACU was a 1-day program where many different topics were covered.
The Iowa ACAC Professional Development Committee put their heads together to cover a wide range of topics to present on. We talked A LOT about travel. Travel is going to be new for everyone this fall, even for those of us who have been traveling for many years. With some unknowns still on what it is going to look like, it was fun to talk about the excitement of fall travel and share some stories from the road. PD Committee members also shared tips and tricks to travel as well as some dos and don'ts. One big piece of advice, always look for the flag pole as it is typically by the main entrance of the school building!
While we travel, we are building relationships constantly, so we couldn't leave out this big topic. Relationship building with students, families, school counselors, and peers was also at the forefront of conversation talking about individual styles and how they can optimize on their own personalities and qualities to build relationships more effectively.
Lastly, we provided updates on what is happening with our own Iowa ACAC and NACAC. There are many changes approaching ACACs this fall wit college fairs being in person, NACAC overall structures for voting, and ethical guidelines. In Iowa, we as admissions professionals advocate for our each and every student to be treated fairly at every higher education institution they are interested in. We talk a lot about this at ACU for that reason alone. We are here for the students, to be a resource for them. Our job is pretty great, allowing us to be a part of potentially the biggest decision these high school seniors have made in their life!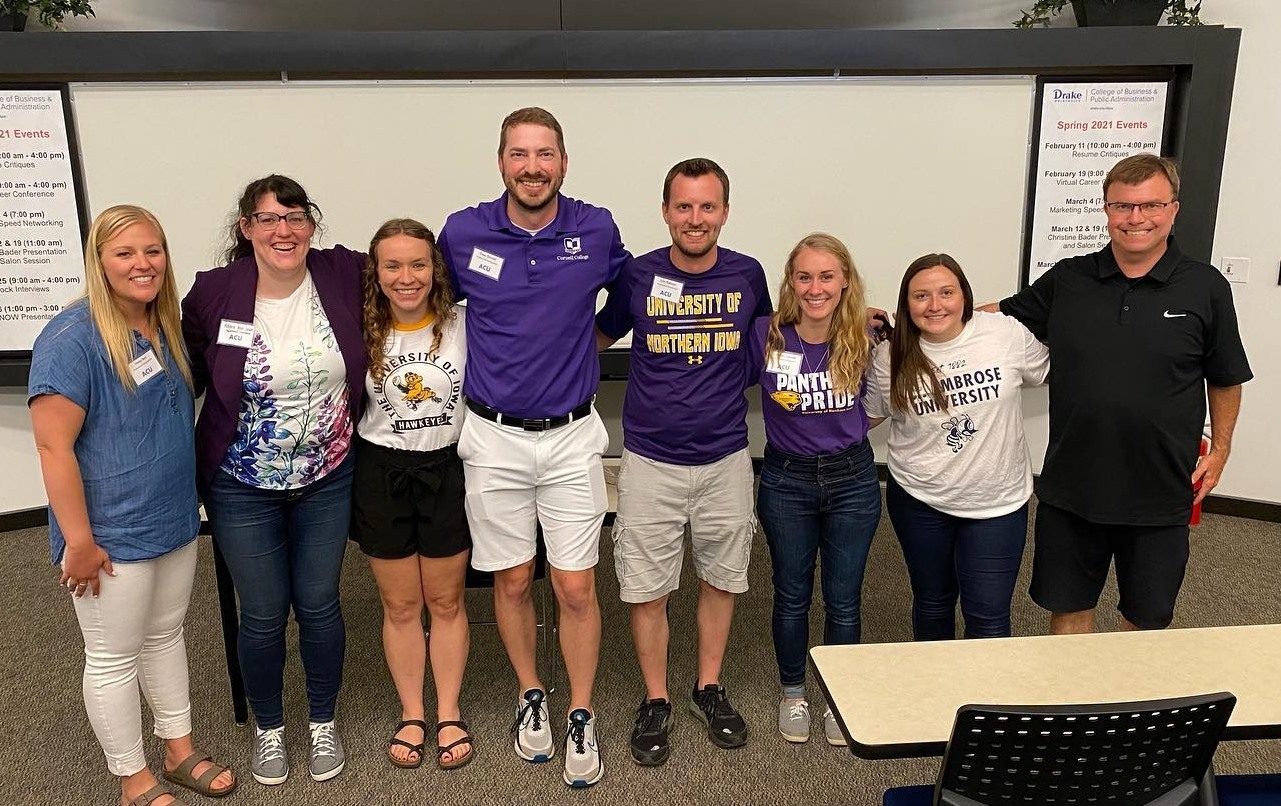 We ended the day with a travel themed scavenger hunt where they had to work in teams to plan a day of travel, set up a college fair table, and answer questions about high school visits! It required great problem solving skills, teamwork, and creativity, which as we all know is required during travel.
Overall it was a really great day! We cannot thank Drake University enough for being the greatest hosts to our big group. We also want to thank everyone who was a part of ACU. From the participants to the committee members to the Iowa ACAC Board, your support is so much appreciated!
Share this post: