Two Minutes With...Shalon Frye
Shalon Frye has come full circle. She started as an elementary teacher in 2000 at Independence
Community Schools, and after three years decided to go back to school for her school counseling degree at UNI, which eventually brought her back "home" to Independence.
"Right after I started in the program, I was hired to be a school counselor for the Cedar Valley Catholic Schools as a K-8 counselor and then as a K-12 counselor. I stayed there for three years while completing my master's program. Upon completion of the program, I was hired by Dunkerton Community Schools as a 7-12 counselor. In 2012, I made a move back to my community as a counselor for the Independence Junior Senior High School. I have been here since and plan to stay here until I retire! I love being in the same system as my children and my nieces and nephews. It is also wonderful for me to work with my friends' children on a daily basis. I enjoy knowing everything I do impacts the community I call home."
Shalon says her a seemingly crazy idea called the R.I.D.E. was her introduction to Iowa ACAC. That opportunity sparked her own idea, which changed the college and career counseling program for her students.
"I had no idea what I was getting myself into, but what a phenomenal experience it (R.I.D.E.) turned out to be! I attended the R.I.D.E for several consecutive years, so I could see the colleges in Iowa. I met a lot of great counselors from all over the state, had a chance to get to know some of the counselors in my area much better, and have become great friends with many. Throughout that experience I kept thinking there should be a way to do this with students. Wouldn't it be a great thing for our kids to see? When I was hired in Independence I started searching for grant money to make that dream a reality. I was able to find money and applied for a $10,000 grant that is renewable. Since the summer of 2013, I have been taking 21 students in my district to 19 colleges in five days over the summer. It is a whirlwind tour based on the same lines as the R.I.D.E. I am so thankful for Iowa ACAC for providing that opportunity for me to see all the colleges, but for also sparking an idea that has turned into an incredible program for my students!"
Shalon applied for, and received a Professional Development Grant from Iowa ACAC and chose to attend the National Association for College Admission Counseling (NACAC) National Conference in Boston. She had never been to a national conference, but had heard and seen great things from other counselors who had. Because her district is not able to financially cover something like that, she figured this was her chance.
"I had the experience of a lifetime! Not only was the conference an incredible learning experience, Boston was a wonderful city to get to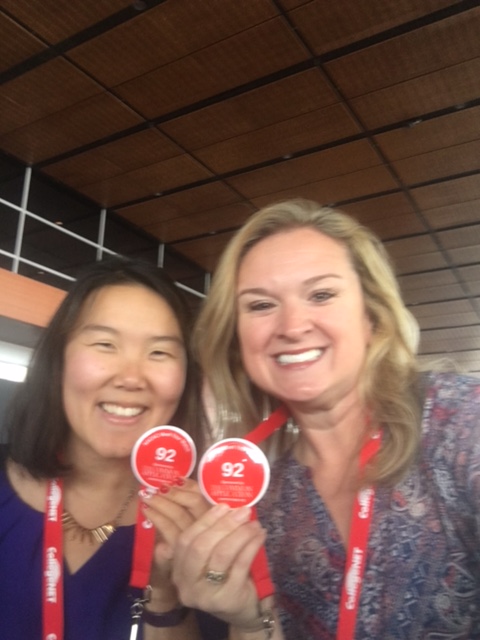 experience it all in. There were people from all over our country, and even other countries, to network with. I was able to meet some great people and have made connections with counselors and admissions reps I never would have had an opportunity to meet had I not attended the conference.
I also gleaned a lot of great information from the conference. Let me tell you, I was frantically sending things to my co-workers while sitting in sessions telling them to check various things out! Every session I went to was excellent. We all know that occasionally when attending conferences we wonder if our time would have been better spent staying in our offices. That was definitely not the case at national conference! It was worth every minute I spent there. We are currently implementing many of the ideas I learned about at the national conference
The Professional School Counselor Grant process will open after the first of the year. Shalon says take the plunge. Take the small amount of time it requires to complete the grant application for the chance at YOUR life-changing experience.
"Imagine what you could learn if you were to attend the National Conference. Imagine the potential networking, the wonder of attending a conference with 80,000 other attendees. Imagine the fun of exploring Salt Lake City, Utah, in 2018!
National Conference not for you? Then attend the MIDWest conference for the first time and meeting the incredible team of admissions counselors and school counselors who are part of this incredible professional team. Or the programming you could develop for your students in your school. It will only take a small portion of your time to open up huge possibilities for you and your program...and good luck! I hope one of you get to have the same amazing experience and opportunity I did."
The Professional School Counselor Grant application process will open after the first of the year. Watch for details!
Share this post: