There's More To Life Than Subway and Casey's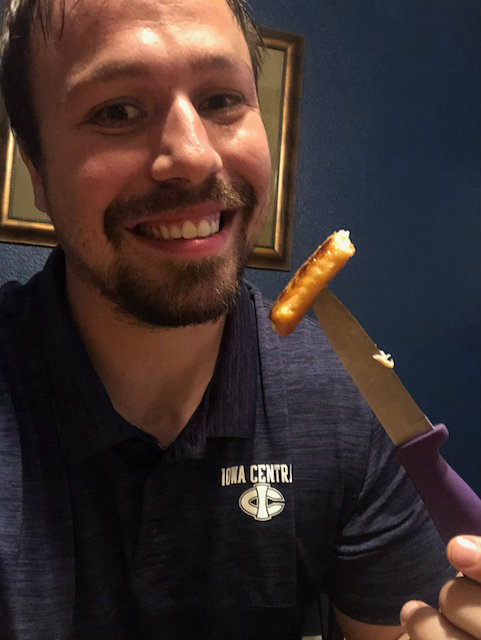 As a self-proclaimed food critic, Gordon Ramsey-fanatic, Food Network junkie, and traveling Admissions Professional for the past 7 1/2 years, the opportunity for dining out and experiencing different restaurants across the great plains of Iowa is inevitable for me and my peers in the admissions profession.
Working at Iowa Central as a traveling admissions counselor has provided me an opportunity to check out local "hidden gems" and experience different dining atmospheres and flavors away from traditional Subway and Panera Bread traveling rep diet.

Compiling a list of restaurants that every traveling admission professional must visit was exciting, fun, and more challenging than anticipated. After agreeing to write a blog, I thought it would be fun to share my passion and expertise for great food and dining experiences with you. It also provided a chance for me to feel like a real life food critic—an opportunity I will likely never get again. While some of your favorites may have not made it onto the list, I hope it serves as a foundation to get out there and experience something new and exciting while on the road. In no particular order, here is my "Top 10 Iowa Restaurants that Every Traveling Admissions Professional Should Visit."

The Sandwich Bowl - Harlan When the mottos for the restaurant are "forking awesome" and "forking and spooning encouraged daily," how can you not check it out? It appealed to my sense of humor instantly. They serve hot and cold sandwiches, salads, burgers, soup, salads, and made in-house desserts. They also have Vegetarian and Vegan options. The wait was long, but definitely worth it. Their food was made with love and pride on a nice, buttery grilled hoagie. It may only be a sandwich, but it's an explosion of flavor that melts in your mouth.

Fuel - Clarion Fuel is definitely one to remember for its atmosphere, service, and coal-fired oven. It was the total package. They have a fun menu with a variety of different pizzas and sandwiches. Pizzas range from pesto chicken to pulled pork with caramelized onions. Our server enhanced our experience with his above and beyond service and also mentioned they bring in live music. Fun decor, upbeat atmosphere, and exciting pizza options.

Nilands Café - Colo This place looks like it belongs on Diners, Drive-ins, and Dives. The checkerboard floors and homemade pies took me back to when I was kid going out to eat with my grandmother. I felt like I was living in the past. Historic décor, farmers drinking their coffee, lunch served in a basket, friendly service, and amazing homemade pies. If you want a taste of Iowa, check this place out.

Cool Basil - Clive I was introduced to this restaurant by a good friend and admissions professional, Mark Ash, of Kirkwood Community College. After a Finance committee meeting for Iowa ACAC in Urbandale, Mark had mentioned he knew a great place to eat if I liked Thai food. I had never really given Thai cuisine a fair shot, so I agreed to check it out. The food was great and full of unique Thai flavors. The menu was large, the service was average, the portions were huge, and the price was beyond reasonable for lunch.
Main Street Bar and Grill - Larchwood
This place is the perfect example of a rural Iowa restaurant, earning a lot of points because the people made you feel right at home and were excited to serve me as a first-timer. The menu isn't anything fancy, and has your typical, small-town Iowa menu items. The food was flavorful, the portions were huge, and the servers made you feel right at home. There probably aren't many places to eat in Larchwood, but this was definitely the place to me.
Smokey Row - Pella
This one is for all you coffee drinkers. It's a fun little coffee shop with a variety of different sandwiches, soups, salads, panini's and more. An excellent selection for those needing a cup of joe and looking for a new healthier dining option. Great coffee shop atmosphere and beyond friendly staff. If you are in Pella looking for something to eat other than a Dutch letter, check out Smokey Row.

Mabes Pizza - Decorah So I have been hearing about the place since my admissions journey began. I have been to Decorah once and, admittingly, I have never been here. This one made the list because Mabe's has likely been the most talked about restaurant that I have heard admissions professionals speak of. I am always told this place is a "must" when in the Decorah area. A solid 4.6 stars out 5 according to Facebook reviews.

Bluebird Café - North Liberty Located on the Stonebridge Promenade in North Liberty, Bluebird Café serving breakfast all day every day. They serve breakfast, burgers, sandwiches, salads, pasta, salmon and much more. I've only been here once but it left quite the impression! I found this place through "google" while on the road recruiting. I ordered the "Karkatoa Omelet" which consists of pecan smoked bacon, jalapenos, red onions, garlic, citrus cream cheese and a corona of molten pepper jack cheese. I cannot wait to go back!!

Bubba Q's – Ottumwa. If you are in Ottumwa I encourage you to visit Bubba' Q's BBQ. This was referred to me by the front desk person at a hotel in Ottumwa and I am glad I took her recommendation. You walk in the doors and instantly smell the barbeque aroma. The service was great, and I was fortunate enough to get a fresh batch of ribs. They literally fell off the bone. I believe they added pulled pork to the baked beans, which definitely didn't hurt my feelings. I left Bubba Q's in a food coma.

La Juninta - Storm Lake. My first dining experience at La Juninta was disappointing to me. I ordered beef tacos and thought it was pretty bland and nothing special. I was glad that came out of Iowa Central's wallet and not mine. During my next visit to SLHS, I told the students that I wasn't impressed with La Juninta and they looked at me like I was crazy and basically told me I was an idiot. I knew I had to give it another chance. I switched things up and ordered the pork butt burrito, and have been hooked ever since. If you check this place out—go with the burrito!! They also have a fun selection of authentic Mexican sodas that helps bring the Mexican culture to life while dining.
Road warriors, it is time to steer away from the traditional Subway diet and take advantage of the positive opportunities life on the road creates. Checking out local restaurants/cafes/diners creates more meaningful conversations with locals, supports local business, helps us get out of our comfort zone, builds connections, and you never know-- your waiter or waitress may have a son or daughter in high school interested in your school (this actually happened to me and the student ending up enrolling at Iowa Central).
Honorable mention
Depot - Shenandoah
Newton's café - Waterloo
Co-Op - Pomeroy
J's Pizza and Steak House - Clarinda
Pub on the Cedar - Charles City
Cattleman's - Sac City
The Class Act - Kirkwood Hotel
The Landmark Bistro - Grundy Center
Editor's Note: For more ideas on places to eat, check out the Travel Iowa web site with their
99 Counties, 99 Restaurants
interactive map!
Share this post: