The Admissions Scandal - Friendly Reminder for Doing What is Right
With the recent tumult in the news regarding the current college admissions scandal, our profession has been challenged and placed in the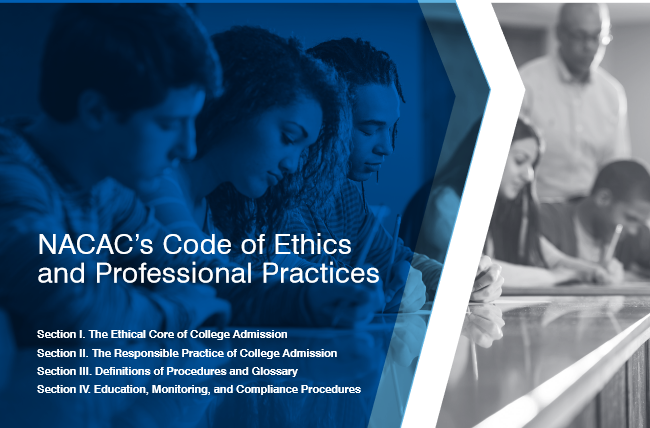 spotlight of scrutiny. Although most of us are not directly affected by this in our day to day responsibilities, the events of this highly public disparagement has caused much discussion in our profession and allows us to take a look in the mirror at our own practices and policies.
Through this document, we are reminded of the core values of the NACAC organization – Education, Fairness and Equity, Professionalism, Civility, Collaboration, Trust, and Social Responsibility. The unethical practices of altering a students standardized test scores or fabricating a student's identity as an athletic abilities are just a couple of examples that break the core values of our system.As an Admissions office, our team held a discussion to dive into these wrongdoings and the detriment they can have on students. This discussion also provided an avenue for us to go through the NACAC Code of Ethics and Professional Practices, which is a helpful reminder to bring us all back to the core of our work. As stated in the Preamble, "The SPGP: NACAC's Code of Ethics and Professional Practice is the conscience of our profession. It guides our actions in the face of current and emerging pressures. It empowers us to build trust and find common ground while we work to ensure that every student's dignity, worth, and potential are realized in the transition to post-secondary education."
In a recent interview, NACAC President, Stefanie Niles, made a great point by saying, "While I am not sure that we will ever be completely free of those who choose not to act with integrity, we can provide more education and recommit to holding ourselves, and those with whom we work, accountable." She makes many interesting points that are worth reading yourselves at  www.nacacnet.org/news--publications/newsroom/updates-from-nacacs-president/presidents-column-committing-to-ethics-and-accountability-together/.
As we continue towards the rapidly-approaching May 1 deadline and the close to our recruitment cycles, let us all remember why we do what we do and the greater purpose of our roles in the field of Admissions. We all have the pleasure of creating connections, sharing stories and perspectives, and educating prospective students and families on the opportunities that a college education can provide. While we have goals to meet, this role also comes with great responsibility and the peace of mind knowing it is done the right way. Whether it be hosting a similar discussion with your own team, re-reading the Code of Ethics and Professional Practices, taking a moment to reflect on your own actions/beliefs, or doing a reflection of your own institution's practices – it is important to keep this at the forefront of our work, scandal or no scandal, to do what is right for our students. As we all eagerly anticipate the summertime, let's keep our focus on the conscience of our profession as get closer to turning the page on a new year.
Share this post: