Holiday Celebrations at UNI
At the UNI Office of Admissions, we love parties, games, decorations...but mostly food. We potluck any chance we can get! But our holiday fun doesn't just stay in our office. Here are some of the fun ways that the UNI Office of Admissions likes to celebrate various holidays.
First, our annual Winter Holiday Party. We don't call it a Christmas party to make sure we're staying inclusive in our language. Some things are tradition: food, games and a white elephant gift exchange. We've done a variety of games such as "do you know your staff" jeopardy, picture challenges, building wide scavenger hunts, activities to incorporate other offices on campus, and white elephant with a variety of twists and rules. And, of course, there's food. We also support a family each year through the local Adopt a Family charity. As a staff, we each contribute gifts and money to help meet their needs and desires for the season. This is a great way to give back to our community!
Second, Homecoming.
 When you work on a college campus, Homecoming is a holiday. Our campus does competitions for best decorated offices - unfortunately this is during our busy travel season, but our awesome student employees help us participate every year. 
Finally, Halloween. Each year we have open office hours to allow little Panth
ers to trick or treat through our building. A lot of them 
are
 our own 
staff members' kiddos which a great way to meet them! Please enjoy this picture of Jesus and his dog, Boujie.

One of our dining centers also goes ALL OUT for Halloween each year, decorating to look like a haunted house. It's a great time to eat in our dining centers. 
We celebrate other events through the year in a similar fashion. What do you and your staff do to bring excitement and fun to the office for special events? Send us your pictures and ideas to share!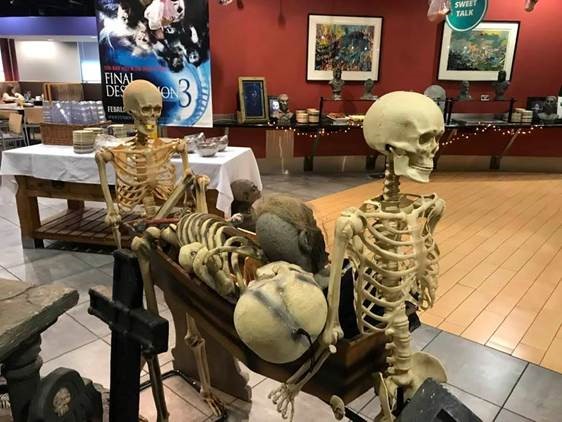 Share this post: