MIDWest 2022 - Recap & Highlights
In September of 2019, the MIDWest conference planning committee (with representatives from all four affiliates), met in Madison, WI to start the process of planning our 2020 MIDWest conference. We were so excited to explore Madison, put together some wonderful sessions based around our theme (2020 Vision), and connect with colleagues across state lines. When the COVID-19 pandemic put an end to our in-person conference plans, we decided to postpone by one year and try again in 2021. Of course, the pandemic continued, and we wound up pivoting to a virtual format (is anyone else really tired of that phrase?) for the 2021 MIDWest Conference. It was a great experience, but definitely not the same as the
in-person experience we had hoped for.
After all of that, on May 22-24, it finally happened! We were able to convene for three days at the Omni Lakes Hotel in Eagan, MN for the 2022 MIDWest ACAC Conference. I hope that all who were able to attend had a great time and learned a lot. For those not able to make it up to Eagan for the event, I'd like to share a brief recap with you.
Our affiliate had a great showing at this year's conference, with over one hundred attendees from Iowa ACAC. Members of Iowa ACAC presented in 11 out of 30 sessions, and seven members of Iowa ACAC served on the MIDWest conference planning committee. We should all be proud of the way that we represented our organization!
Throughout the conference, attendees had the chance to bid on some excellent items in a silent auction. Items included gift cards and tickets to some great experiences throughout the Midwest, swag items from member institutions, and a signed baseball from the Minnesota Twins. Over the course of the three days, we earned close to $2,000 from the silent auction that will be donated to the Minnesota Education Equity Partnership.
We had a really strong slate of sessions for conference this year. Some outstanding sessions include:
Right Now, Everybody is Updating Their Resume – A great dialog on what different offices are doing to retain staff, change culture, and keep people in the field.
Building the Transfer Toolbox – An interactive session that focused on best practices for working with transfer students.
LGBT Visibility on College Campuses – A conversation on LGBT visibility in popular culture and the resulting importance of campus inclusion efforts.
Rethinking Fit: Privilege, Implicit Bias, and Gatekeeping in Admissions Application Evaluation – Examining our own role in the continued marginalization of 1st-gen, low-income, rural, and BIPOC students.
How to Make a Career in Admissions: Advice from Two Directors Still Figuring it Out – Two young admission directors discuss the adventure of reaching the director level, the best ways to make connections, and the skills and attributes that contribute to a career in enrollment.
My favorite part of conference is the opportunity to connect with colleagues and friends from across the state. This year's conference offered lots of great opportunities for connection, starting on night one with a welcome reception and happy hour right next to the registration table. Attendees were able to begin reconnecting as soon as they walked in the doors, and the conference center lobby provided a great space to enjoy a drink with friends and catch up on all that we've missed in the last three years.
Those connections continued with some wonderful sessions throughout the conference. Regional admission counselors had the opportunity to engage in dialogue together about the unique challenges they face in their roles. Sabrina Tapps-Fee from Mount Mercy University led an incredible session for female-identified admission professionals called Wonder Women in Admissions, where attendees could talk about the unique challenges and blessings of being a woman in our field. One session held space for Vice Presidents, Deans, and Directors of Admission to share the challenges of leadership and engage in an honest discussion of this recruitment cycle. Finally, on Monday evening, we were all able to enjoy some drinks, desserts, and live music from the band Pop Rocks.
Another part of the conference that I always look forward to is the state meeting, where we get updates from each committee about what's happening in our affiliate, award winners are announced, and we all have the chance to catch up. The highlight of this year's state meeting for me was sitting and having a drink with Tom Paulsen while we listened to President Jaclyn share some updates.
A few of those updates include:
Admission Professional of the Year: Abby Martin, Hawkeye Community College
Michael Barron Impact Award:

Janine Baeza, University of Northern Iowa
Lesli Garcia, University of Northern Iowa
Peyton Bruner, Mount Mercy University
Jarred Hall, Mount Mercy University
Jorge Calderon, Iowa State University

School Counselor of the Year: Jackie Bode-Steinke, Lewis Central HS
Rising Star Award: Jarred Hall, Mount Mercy University
Recognition and thanks to outgoing board members Craig Juilfs, Sheryl Bass, Chris Wood, Tom Paulsen, and Tara Winter.
Conner Ellinghuysen was announced as our newest Assembly Delegate. He was elected by Iowa ACAC members who are also NACAC members via a previous electronic vote.
Chevy Freiburger was voted in as President-Elect.
Jaclyn Tungesvik passed the gavel to Drew Shradel.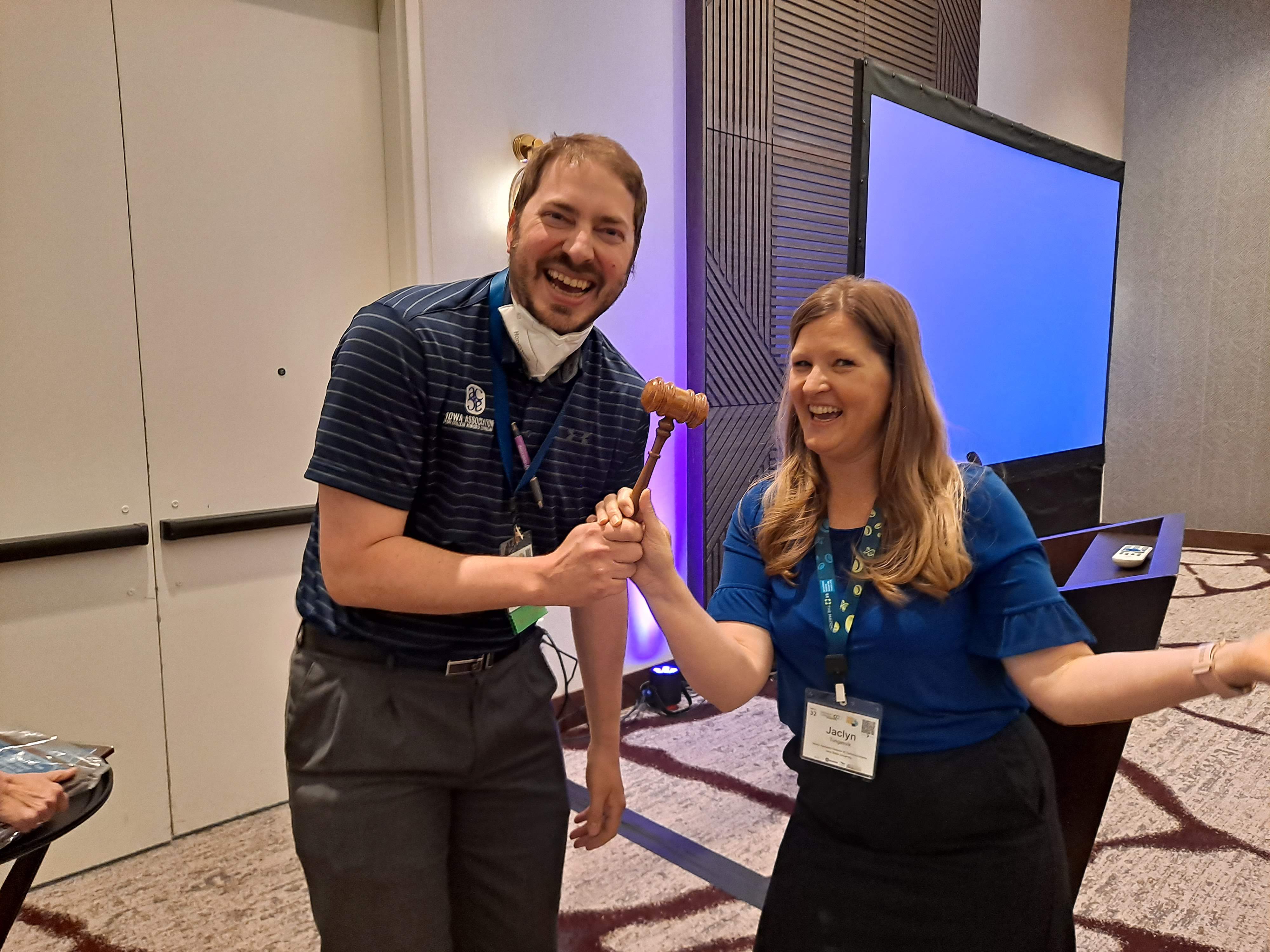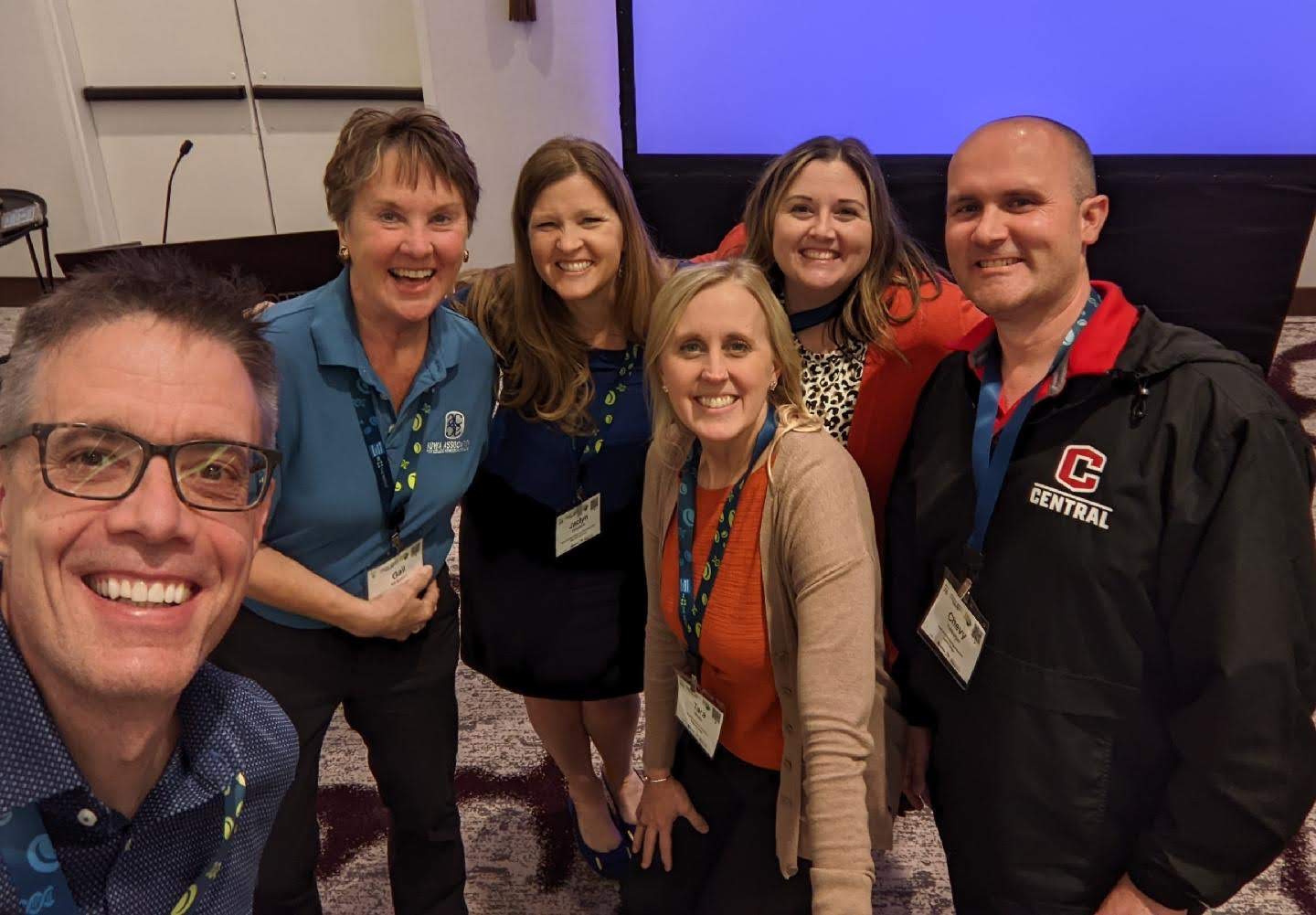 Congratulations to everyone!
On Tuesday morning, I sat on a panel with the Presidents group from MACAC and our very own Mark Ash, where we discussed ways that members can make the most of their involvement with their state affiliate and begin to get involved in NACAC. Everyone on the panel shared stories of the meaningful relationships they've created with colleagues, and how those relationships have enhanced both their personal and professional lives. Mark talked about his experience at the NACAC conference this past year in Seattle, and how much he had needed that sense of connection after our time in isolation during the pandemic. 
In the session, one attendee asked why we felt it was important to have professional connections outside of our own institution, especially if we weren't actively job searching. All five of us shared that our professional connections were about much more than just 'networking,' or about future job opportunities. For me personally, the connections I've made through Iowa ACAC have turned into genuine and wonderful friendships. This past November, I welcomed my first baby, and I've been spending the last few months learning how to navigate life as a working mom. Friends from Iowa ACAC like Sabrina Tapps-Fee, Jaclyn Tungesvik, and Mallory Luensmann have been absolute lifesavers in this season of life. Having the chance to reconnect with them during Monday night's social was a great reminder that this organization can add so much value to the lives of our members, both professionally and personally.
I hope that everyone enjoyed their MIDWest Conference experience, and that you are all refreshed, rejuvenated, and ready to continue doing great work for the next year. On behalf of the conference planning committee, we can't wait to see you next year in Iowa City for the 2023 Iowa ACAC Conference on May 21-23. Cheers!
Until then,
Susan Dickinson
Chair, Conference Planning Committee
Share this post: