Fun Things to Do Around Iowa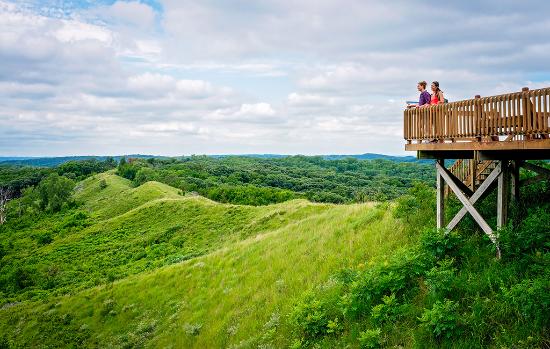 With warmer temperatures finally giving us a refreshing reminder of summer, it is exciting to get back outside and brainstorm about fun activities to do during this time of year. Here in Iowa, we are very fortunate to have a broad variety of natural recreation spaces, outdoor experiences, and organized events to partake in throughout the warmer months. All across our state are a variety of unique opportunities to enjoy. I hope this article gives you some fun reminders or new ideas!
For those interested in the fine and performing arts, Eastern Iowa communities such as Iowa City and Cedar Rapids offer an abundance of eclectic festivals. Iowa City, in particular, hosts a Friday Night Concert Series beginning on May 18 as part of their Summer for the Arts initiative, which hosts outdoor concert venues and activities for all ages to partake. Cedar Rapids is home to the NewBo Art Fest, which brings more than 115 local and national artists, food vendors, music, and various art demonstrations to this community. If you are interested in learning more about either of these events, check them out below:
https://summerofthearts.org/festival/2018-friday-night-concert-series/
https://www.gocedarrapids.com/events-calendar/newbo-art-fest/
Although these festivals and events can bring fun opportunities to eat great food, don't forget to check out the local farmer's markets that happen all across the state. These markets are wonderful opportunities to support local farmers, but also get some fresh produce and local treasures, such as honey, breads, pastries, sweet treats, and homemade items. For those that enjoy picking their own produce, whether it be apples in the fall or berries in the summer, you can visit www.visitiowafarms.org to find locations with the option to "U-Pick" produce all across the state from local growers.
The Des Moines area has a multitude of opportunities for community involvement in the warmer months. Outside of attending an Iowa Cubs baseball game, there are many unique activities and festivals that are offered as well. Towards the end of July, the community of Indianola hosts the National Balloon Classic from July 29 – August 6, a beautiful display of hot air balloons, which also help to light up the night sky and create beautiful photo opportunities. Back towards Des Moines, "Yoga in the Park" takes place every Saturday morning throughout the summer at Gray's Lake and is free to attend for the public.
Not only is it enjoyable to do yoga by a lake, we are fortunate to have a multitude of trails to stay active outdoors and enjoy nature. To name a few – the Mines of Spain in Dubuque has access to water activities and hiking trails in the bluffs of Northeast Iowa, Backbone State Park is another popular hiking destination along the Maquoketa River, being Iowa's oldest state park, Southern Iowa is home to Lake Rathbun and Lacey-Keosauqua State Park, and the Loess Hills State Forest/Stone State Park in Northwest Iowa. To find hiking trails all across the state, visit www.trails.com/iowa/hiking. For interaction with butterflies and flowers, Reiman Gardens in Ames is a great space to sit back and enjoy natural beauty.
No matter where you are from, if you find yourself in various parts of Iowa, I hope this helps you all to brainstorm about fun things to do as we gear up for an enjoyable summer!
Further ideas and information can be found at: https://www.desmoinesregister.com/story/entertainment/2016/05/01/iowa-summer-events-activities/83201920/.
Share this post: