Eat Well Series-Part I: What We Heard!
In the March edition of Scenes, we introduced a multipart series, "Eat Well, Live Well" - if you missed it, you can catch up here. In this first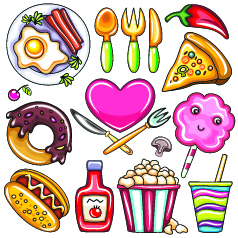 edition, Tom Paulsen, Iowa ACAC President-Elect, shared some great places around the state to grab a bite. We asked Iowa ACAC members what spots around the state needed to be added to that list and here is what you told us:
-          Emil's Hideaway – Cedar Rapids:  Dark, intimate haunt offering comfort grub!
-          Prairie Canary – Grinnell:  Locally sourced, incredible food, and very reasonably priced. The chicken and biscuits at Sunday Brunch will put you in a food coma, for sure. Something for everyone on the menu.
-          Dan and Debbie's Creamery – Ely:  Family owned and operated, Dan and Debbie's is committed to building a sustainable farm and modern day dairy processing facility. They have dedicated their lives towards providing the freshest, most wholesome farm to table dairy products in the area. The Creamery is home to squeaky cheese curds, handcrafted ice cream, and cream top milk.
-          Block 10 at 1921 City Hall – Sheffield: Coffee shop with a large dining selection located inside a historic 1921 City Memorial Hall Building in Sheffield, Iowa. Topped off with amazing service and a friendly atmosphere!
 -          Park Farm Winery – Bankston: Located in rural Bankston, just west of Dubuque, the gourmet artisan pizzas taste straight from Italy – which is also where their wood-fired brick oven is from.
 -          Tobey Jack's Mineola Steak House – Mineola: Tobey Jack's has been a staple along the Wabash Trace Nature Trail since it opened in 2010. It is home to Iowa's Thursday Night Taco Ride which draws hundreds of riders every week during the summer.
 -          Cumming Tap – Cumming: Located just eight miles south of Des Moines, via the paved Great Western Trail, it is a legendary destination for cyclists. The Tap has a cult-like following for Taco Tuesday and Wednesday Steak Night, in no small part due to the hospitality and legendary Moscow Mules. Not to mention there is a great back patio that overlooks the former Chicago Great Western Railroad rail bed.
-          Dotzy's Restaurant and Saloon – Elgin: Dotzy's, located in small town Elgin, is one of two finalists in the 10th annual Best Burger in Iowa contest. Dotzy's is a local favorite with its hip atmosphere and unique aesthetic.
Share this post: